Cycling despite incomplete paraplegia - incomplete spinal cord injury
The incomplete paraplegia - incomplete spinal cord injury
If the spinal cord is only partially severed in a paraplegia, it is called incomplete paraplegia or incomplete spinal cord injury. In the case of incomplete paraplegia, you may still be able to use your legs to move around, albeit often with the help of walking aids such as walking sticks or a rollator.
Therapy after an incomplete paraplegia
In gernaral the incomplete paraplegia is treated with a physiotherapy training program, often in a rehabilitation clinic and over several months.
Cycling again with the Varibike recumbent bike, despite incomplete paraplegia
Because the Varibike Trike has special driving properties and drive options, the Varibike Trike is also very attractive for people with incomplete paraplegia. People with incomplete paraplegia particularly appreciate the 7 different drive options. No recumbent bike in the world offers as much variety as the Varibike Trike. The uncompromising sporty design of the Varibike trike is also pleasing.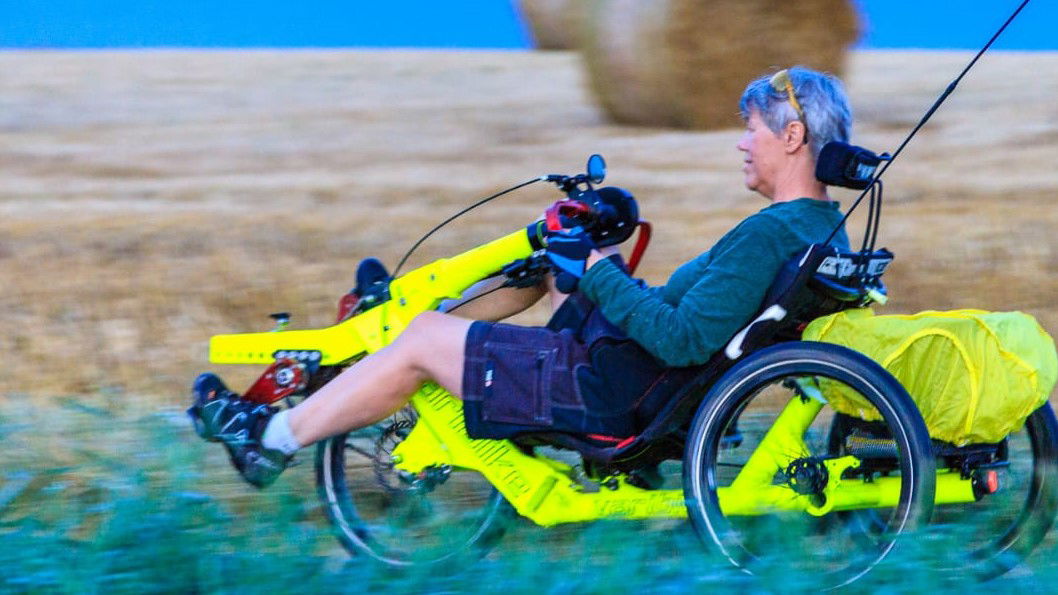 Photo: Varibike recumbent bike - cycling with incomplete paraplegia
Thanks to the Varibike Trike, people with an incomplete paraplegia can cycle again. You can go on excursions into nature or take tours with other cyclists. The Varibike Trike is love of life and joy in movement. The additional arm drive of the Varibike trike compensates for the lack of strength in the legs in the event of an incomplete paraplegia. You are fast again and you can conquer slopes again. The 7 different drive styles offer you a refreshing variety. It's a lot of fun and thanks to the possibility to change the propulsion style, individual muscle groups can be recovered already while driving. The muscles do not over-acidify and you have much more stamina with the Varibike Trike than with ordinary handcycles. In addition, the different drive styles in the Varibike Trike promote full-body coordination and help restore nerve connections. It has been discovered that the reflexes in the legs are positively influenced by additional arm training. Varibiking is movement in nature and an excellent rehabilitation measure, which also has a positive effect on the ability to use the legs again. The most successful and most joyful rehabilitation measures are the one that are fun