The Varibike recumbent tricycle - also attractive for people with disabilities and handicaps
Without handicap
 People without handicap use the Varibike Trike as a fast everyday, training and touring trike for everyone. Most of the Varibike Trike customers are people with no physical limitations. 
Use with handicap
 Because the Varibike Trike has special driving properties and drive options, the Varibike Trike is also very attractive for people with handicaps or limitations. People with disabilities particularly appreciate the 7 different drive options. No trike in the world offers as much variety as the Varibike Trike. The uncompromising sporty design of the Varibike trike is also pleasing. Thanks to the Varibike Trike, many people with disabilities can cycle again. You can go on excursions into nature or take tours with other cyclists. The Varibike Trike is love of life and joy in movement. These are possible areas of application for the Varibike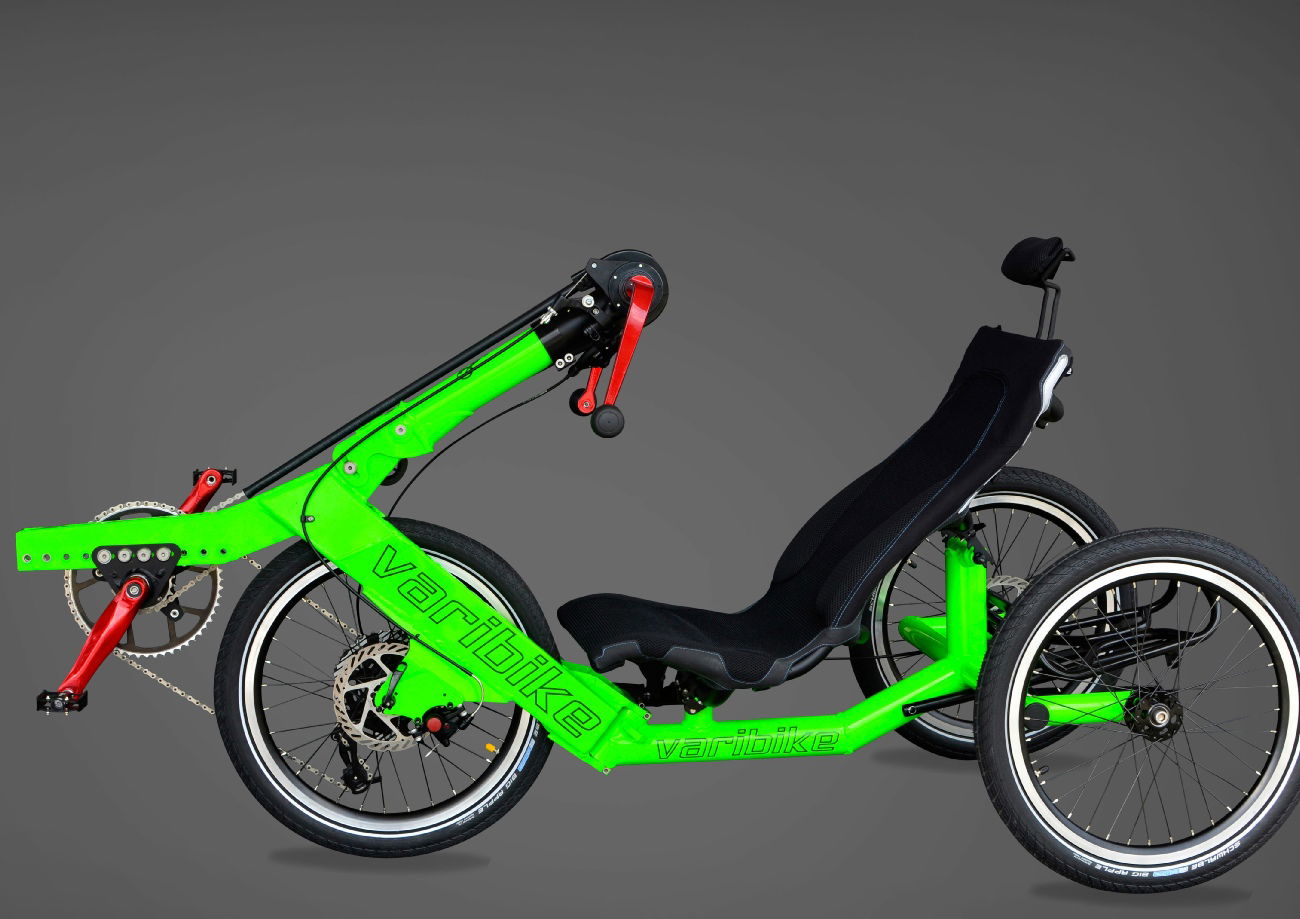 Trike for people with disabilities
Impaired function of one or both legs
 Such restrictions are, for example - lack of strength, limited mobility or pain in one or both legs. The reasons can be of different kinds, e.g. Foot, hip or knee damage, leg amputation or partial paralysis. The additional arm drive of the Varibike trike compensates for the lack of leg strength. You are back on the road quickly and you can climb slopes again. The 7 different drive styles offer variety. It's a lot of fun and thanks to the variety, individual muscle groups can be recovered while driving. The muscles do not over-acidify and you are much more enduring with the Varibike Trike than with ordinary trikes or hand bikes. 
Paraplegia
 The Varibike Trike can be equipped with an FES (Functional Electrical Stimulation) system. This means that the legs can be moved despite paraplegia. Muscle mass is built up again in the legs and buttocks and their blood circulation is stimulated. The leg strength is relatively low despite the FES system. However, the additional arm drive of the Varibike gives the necessary additional thrust to be on the move quickly and to undertake longer tours. 
Multiple sclerosis, stroke, or Parkinson's
 With these diseases, coordination or the sense of balance is often limited. The Varibike Trike has a low center of gravity and is secure. This means that the Varibike can also be driven very slowly without falling over. Furthermore, in multiple sclerosis, for example, the muscles are weakened. As the Varibike can be driven with all limbs, it improves the whole body coordination and strengthens the entire musculature and keeps them supple and relaxed. 
Equipment variants
 We have the right equipment for almost every application. For example, we can equip the Varibike with a legrest, pendulum crank, shortened crank, motor support, coupled arm / leg drive, electrical circuit, etc. Just give us a call on +49 (0) 731 940 25 429, or write an email to info@varibike.com. We are happy to help. 
Interview with Varibiker Marc Waldeis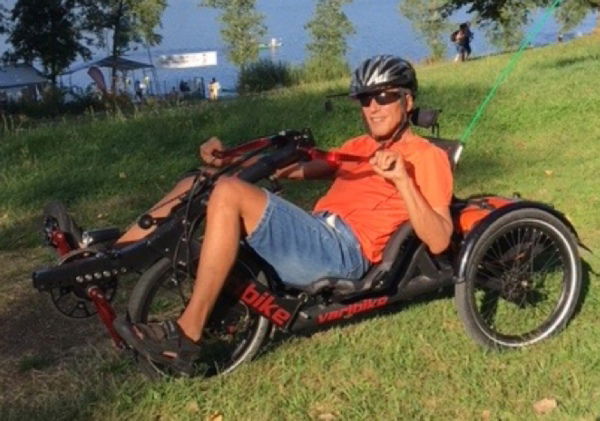 How long have you had Parkinson's?  Since 12 years. How long have you been driving a Varibike Trike?  Since May. So for about 2 months How did you come across the Varibike Trike?  I wanted a piece of sports equipment that trained everything. In winter I train on the cross trainer and cross-country skiing. The doctors have told me that endurance training and muscle activity have better blood supply to the neurons and muscles, which in turn increases mental ability. And the language improved too. We know that the interplay of movement and stamina and coordination can stop or even improve Parkinson's. In addition, I no longer need so much physiotherapy. That is a lot of effort that can be saved. I got to know upper body ergometers in physiotherapy. And then I thought if you could do that outside in the beautiful nature, it would be great. I have been riding a Scorpio recumbent bike for 10 years. This already relieves the back. When riding a two-wheeler, you often sit with a hunchback and incorrect posture, and you quickly get back problems. And then you came across Varibike Trike?  Exactly, then I googled for hand and foot bike and found the Varibike Trike. Then how did you buy it?  I ordered it from Varibike in Ulm without trying it. I took the philosophy that the trike should teach me how to do it. When I drive in the forest, I just let everything go, or I give full power, or I accelerate quickly, my head is straight and I just look at the horizon and I'm so fully inside and nothing happens. I am part of a Parkinson's group. These are young people who are all so "move on" types. There I presented the Varibike Trike. And it was very well accepted. What about the connections in the brain during sport, which are very important for people with Parkinson's?  The neurotransmitter dopamine is stimulated during exercise. The more muscles are active, the more dopamine is produced. This is where full-body training is best because this is where the most muscles are active. Large movements such as cranking is good for the disease. Can you reach your training goal faster with the Varibike?  In any case, as I said, I can varibike in a beautiful natural environment and have to do much less physiotherapy indoors. What is the special fun factor about Varibiking for you?  That I personally enjoy the fact that I can now use my arms and legs at the same time and thus improve coordination. What do you do with your Varibike Trike?  Go on tours. Now, for example, go to the Allgäu. I like to go to all of the Pre-Alps and do mountain training. With Varibiken, you can switch between different driving styles, i.e. only legs, only arms, one arm, arms and legs, synchronous or alternate style. Does this make sense?  Yes, because when your legs get tired you can use your arms. Do you often switch between driving styles when varibiking?  Yes, I change often, depending on what I'm up for, that's the nice thing. Did the Varibike Trike make you faster?  In any case. You notice it especially on the mountain. I've been riding a trike with a good friend for years. With the Varibike, I've become faster and stronger. In the meantime he has problems keeping up with me on the mountain, although he has no handicap. Does that mean you have also gotten stronger muscularly?  Definitely. You can see it too, right? (Laughs) The Varibike steers itself either with the arms or the legs or both together. How do you feel about the steering?  I think that's good that you can only steer with your arms or legs. Was it difficult to learn the varibiking?  It was difficult at first. It took me a while to get the steering into line. I practiced in a parking lot for about 1 week before I could drive, but it took another 1 to 2 months to internalize the reflexes. Now I'm really good at the Varibike. Do you feel safe varibiking?  At first I was afraid of going downhill. Now I just let it go and drive pretty confidently and it's fun. What would you say - for whom is Varibiking recommended?  For people who like to do sports, i.e. full body training. And also for people who like to do cross-country skiing, swimming or something like that and want to do something else. For people who want to burn a lot of calories. Varibiking is a new sport. How do the people you meet with the Varibike react?  People are curious. They ask me often about the Varibike. You're back on the bike and that increases your self-esteem. Why did you choose the Varibike and no other trike?  Well, I had already ridden the Scorpio for a few years, which only trained the leg, that was not enough for me. Then I discovered the Varibike that trains the whole body. I followed it for a year and then with the help of my dad I bought it and just ordered it. Finally, do you have a tip for Varibike beginners?  Go out there and try it. Just do it.
Erich from Kapfenberg / Austria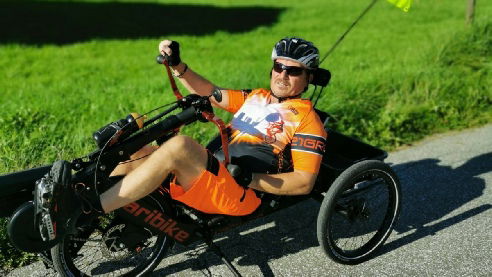 The Varibike is unfortunately completely unknown not only in Germany but also in my homeland (Styria Austria). I was looking for a bike with which I could primarily use my arms. Since I suffered an incomplete cross-section in an accident four years ago, the varibike is, for me personally, a great achievement. This great bike enables me to continue practicing my beloved sport! Greetings from green Styria in Austria!