BURNS 84% MORE CALORIES
 As you are using more muscles, varibiking enables you to burn 84% more calories than normal biking. * – tested by aerolution®.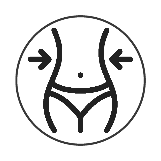 EVENLY WARMED BODY
 When varibiking, your whole body is in motion. Your body is warmed evenly due to proper circulation. This protects you against cooling and tension in under-cooled muscle groups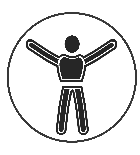 ENHANCED PERFORMANCE LEVELS AND FITNESS
 When varibiking you can work out (at the same lactate level) with a higher heart rate. Sports medicines say: Compared to cycling, for varibiking the recommended max. heart rate is 10 beats/min higher. By the way, the recommended max. heart rate for varibiking is comparable with the max. heart rate of classic cross-country skiing. With the possibility to train at a higher heart rate with the Varibike, you can better utilize your power reserves. Thus, you improve both your cardiac output, as well as your maximum oxygen consumption.* Competitive athletes that can not seem to get beyond a certain "performance plateau", by varibiking they can improve their performance again and raise it to a higher level. Recreational athletes train more efficiently with the Varibike and can achieve their ambitious training goals in less time. 
* - proven in a scientific study from University of Würzburg/Germany. 
To see the summery of the study click here 

FULL BODY WORKOUT
 Varibiking exercises your whole body. Besides your legs you also exercise your arms, chest, shoulders and torso. The impact on the fitness and the physique is correspondent high. You move from A to B and you practically have your own gym with you. Simple and effective, especially as it gets. 

See also the following video "Workout Study"